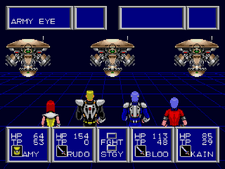 Army Eye'
s are a group of security robots in
Phantasy Star II
. Each one has 3000 hp.
They are encountered only once by the players in a scripted event immediately after opening the last dam. There is no way to avoid this battle from taking place. The battle is scripted as such that the Army Eyes will trap the players party in plasma rings in the third round of battle and progressing the story to the next part, the prison satellite Gaira. Because of the high health it is impossible to defeat the Army Eyes without hacking the game. Running away is also not possible. Should a player decide to hack the game and kill the Army Eyes, then the game cannot proceed any further as the player will not be able to get to Gaira and subsequently unlock the spaceship to Dezoris.
Ad blocker interference detected!
Wikia is a free-to-use site that makes money from advertising. We have a modified experience for viewers using ad blockers

Wikia is not accessible if you've made further modifications. Remove the custom ad blocker rule(s) and the page will load as expected.