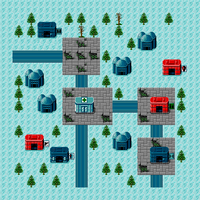 Aukba
is one of the three final towns reached in
Phantasy Star II
, and possibly the second town found on the planet
Dezo
. Rolf gains access to this town after boarding the
Paseo
spaceship and successfully navigating through the maze-like
Skure
spaceport. Aukba is the closest residential area to
Menobe
, the
Crevice
, and the
Esper Mansion
.
General Information
Aukba is a town located to the north of Dezo. There are rumors spreading from town to town about a strikingly beautiful man that ran away from the planet Palm many years ago and now resides in a mansion hidden beyond the immense hole in the planet known as the Crevice.
Services available in this town include:
Teleport station to Skure, Zosa, Ryuon
Clone lab
Data memory
Hospital
Weapon shop
Cost
Armor shop
Cost
Tool shop
Cost

Ceramic Sword

3200

Laconian Gear

28000

Monomate

20

Laser Knife



4400

Laconian Cape

36000

Telepipe

130

Laconian Mace

16800

Sandals

180

AC Slasher

24000

Hirza Boots

9800

Laser Shot

6200

Ceramic Emel

9700

Pulse Cannon

32000

Laconian Shield

13000
Ad blocker interference detected!
Wikia is a free-to-use site that makes money from advertising. We have a modified experience for viewers using ad blockers

Wikia is not accessible if you've made further modifications. Remove the custom ad blocker rule(s) and the page will load as expected.