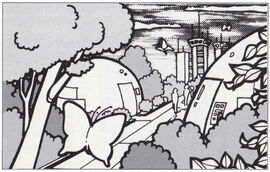 Camineet is one of two residential areas on the planet Palma. It is the home of Alis, and where Phantasy Star begins. It is connected to Palma's spaceport, and has an armoury selling shields, a second-hand shop, and a fast food shop.
Important Locations
Suelo's House
Nekise's House
Armoury
Cost
Second-Hand Shop
Cost
Fast Food Shop
Cost

Leather Shield

30

Flash

20

Cola

10

Iron Shield

520

Escaper

10

Burger

40

Ceramic Shield

1400

Transer

48
Ad blocker interference detected!
Wikia is a free-to-use site that makes money from advertising. We have a modified experience for viewers using ad blockers

Wikia is not accessible if you've made further modifications. Remove the custom ad blocker rule(s) and the page will load as expected.