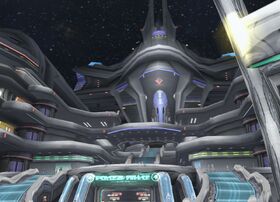 Clyez City
 (Japanese:
クライズ・シティ
) is a location in
Phantasy Star Universe
. It is the beginning city located in the center of the
Guardians Colony
, which conveniently houses the Guardians headquarters on the fifth floor.
Locations
First floor
The ground level of the lobby is a general hub for the player. Located toward the back walls are entrances into the Guardians barracks, which serve as the player's customizable room. In the middle of the lobby is a giant fountain surrounded by trees. During special events, the fountain is typically replaced by a statue fitting the theme.
Second floor
The second floor is the city's shopping district specializing in gear suitable for new recruits to the Guardians. To the left of the stairway includes a weapon, armor and item shop. To the right is a weapon grinding location, which provides weapon strengthening services with a chance of failure, and a synthesis shop that stocks various materials useful for crafting weapons and other miscellania.
Third floor
The third floor houses mostly cosmetic shops. They provide various costumes and accessories that inspire Guardians to show-off their own unique style. Resident Security is also located on this floor, which provides special missions that can be undertaken in order to upgrade the player character.
Fourth floor
The fourth floor is otherwise known as the PPT Spaceport. It allows the player to travel to different planets, as well as provides access to quests in the Linear Line and HIVE.
Fifth floor
Finally, the fifth floor is the Guardians headquarters. It is on this floor that the player can change their class for a fee, as well as undertake story missions and participate in seasonal events.
Gallery
Ad blocker interference detected!
Wikia is a free-to-use site that makes money from advertising. We have a modified experience for viewers using ad blockers

Wikia is not accessible if you've made further modifications. Remove the custom ad blocker rule(s) and the page will load as expected.