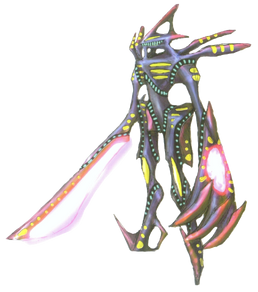 Dark is a monster attribute in many of the games in the Phantasy Star Online series. It classifies monsters as dark creatures that are unnatural, alien-like beings to the area or planet that they roam.
Dark monsters are typically either spawned directly from Dark Falz or they were once human or animal that became infected by the dark god and grotesquely mutated to serve as his unwilling minions.
Phantasy Star Online
D-Cellular Sub lifeforms are creatures that were mutated as a result of being infected with the D-Cell virus. They are featured in Episode 1, 2, and 4 of Phantasy Star Online.
Episode I
Bulclaw
Claw
Chaos Bringer / Dark Bringer
Chaos Sorcerer / Gran Sorcerer
Dark Belra / Indi Belra
Dark Gunner
Death Gunner
Delsaber
Dimenian / Arlan
La Dimenian / Merlan
So Dimenian / Del-D
Dark Falz

Episode II
Dark Belra / Indi Belra
Dimenian / Arlan
La Dimenian / Merlan
So Dimenian / Del-D
Chaos Sorcerer / Gran Sorcerer
Delsaber
Delbiter
Deldepth
Morfos
Olga Flow

Episode IV
Del Rappy
Girtablublu
Goran
Pyro Goran
Goran Detonator
Saint-Milion
Kondrieu
Shambertin

Phantasy Star Zero
Dark monsters are alien-like beings that were spawned from Dark Falz in Phantasy Star Zero. They are 1 of the 4 monster attributes that characterize the enemies in the game.
Dark attribute creatures are mainly confined to the mysterious Dark Shrine encountered toward the end of the game. Since all creatures have a chance of appearing in the Eternal Tower, the area is not included in the list.
Dark Shrine
Zerreo
Derreo
Eulada
Euladaveil
Eulid
Eulidveil
Phobos
Phobos Dyna
Zaphobos
Zaphobos Dyna
Mother Trinity
Dark Falz

Ad blocker interference detected!
Wikia is a free-to-use site that makes money from advertising. We have a modified experience for viewers using ad blockers

Wikia is not accessible if you've made further modifications. Remove the custom ad blocker rule(s) and the page will load as expected.