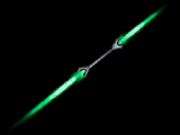 Double Sabers, also known as Twin Sabers, are Hunter weapons that are essentially made up of two sabers connected at each end.
Although similar in sound and appearance to sabers, double sabers have longer combos and more chances to strike a single target akin to daggers.
Rare Double Sabers
9

★

Rarity
10

★

Rarity
11

★

Rarity
12

★

Rarity
Ad blocker interference detected!
Wikia is a free-to-use site that makes money from advertising. We have a modified experience for viewers using ad blockers

Wikia is not accessible if you've made further modifications. Remove the custom ad blocker rule(s) and the page will load as expected.