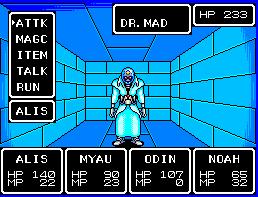 Dr. Mad
is a minor antagonist in
Phantasy Star
.
As his name suggests, he is a scientist gone mad. He established a lab in Abion and began performing animal experiments. The subjects of these experiments typically did not survive.
When Alis and company entered his lab, he demanded that they hand over Myau. If the player does so, he will instantly kill him, laughing wildly. If not, he declares death upon all who interfere with his work. Either way, the player will have to fight him.
In battle, Dr. Mad shoots an extremly powerful projectile. However, if the player uses the spells WALL and PROT, the amount of damage he does decreases immensely. When killed, he drops a treasure chest containing a Laconian Pot. As the pet store owner states earlier in the game, it might be the same Laconian Pot that was used to buy Myau
Strangely enough he can be encountered again cave passage in the Baya Malaya mountain range. He will not drop a Laconian pot in this battle.
Ad blocker interference detected!
Wikia is a free-to-use site that makes money from advertising. We have a modified experience for viewers using ad blockers

Wikia is not accessible if you've made further modifications. Remove the custom ad blocker rule(s) and the page will load as expected.