Flowen's Sword
Game:
PSO Episodes 1, 2, & 4. Portable 2.
Type:
Sword
Requirement:
430 ATP
Stars:

★★★★★★★★★

☆

Max Grind:
21
Special:
Soul

| ATP | DFP | ATA | MST | EVP | LCK |
| --- | --- | --- | --- | --- | --- |
| 230-300 | 0 | 28 | 0 | 0 | 5 |
"Replica of a sword once used by the military. An extremely common replica."
— In-game description
Flowen's Sword is a recurring weapon in the Phantasy Star series. It is the signature weapon of Heathcliff Flowen.
Phantasy Star Online
Flowen's Sword is a sword-class rare weapon. When equipped, it raises the Luck of the wielder by 5. It can be found in Episodes 1 and 2 on Hard or Very Hard difficulty.
There are a few different replicas of this weapon, including
Phantasy Star Universe series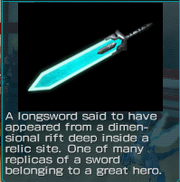 Flowen's Sword reappears in the
Phantasy Star Universe
series under the name "Flowen's Greatsword".
In Phantasy Star Universe, the Flowen's Greatsword can be used as a trade component to acquire an "evolved" version known as "Flowen's Sword+".
Phantasy Star Online 2
Flowen's Sword appears in Phantasy Star Online 2 as a Weapon Camo for the Sword Weapon class. It can be purchased by trading in Gold Weapon Badge 2016.