Flowen's Sword
Game:
PSO Episodes 1, 2, & 4. Portable 2.
Type:
Sword
Requirement:
430 ATP
Stars:

★★★★★★★★★

☆

Max Grind:
21
Special:
Soul

| ATP | DFP | ATA | MST | EVP | LCK |
| --- | --- | --- | --- | --- | --- |
| 230-300 | 0 | 28 | 0 | 0 | 5 |
"Replica of a sword once used by the military. An extremely common replica."
— In-game description
Flowen's Sword is a sword-class rare weapon. When equipped, it raises the Luck of the equipper by 5. It can be found in Episodes 1 and 2 on hard or very hard difficulty.
There are a few different replicas of this weapon, including
Phantasy Star portable 2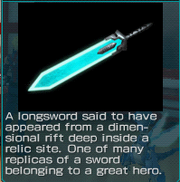 The Flowen's Sword had once returned in Phantasy Star portable 2, but renamed "Flowen's Greatsword". Its class type is A
Ad blocker interference detected!
Wikia is a free-to-use site that makes money from advertising. We have a modified experience for viewers using ad blockers

Wikia is not accessible if you've made further modifications. Remove the custom ad blocker rule(s) and the page will load as expected.