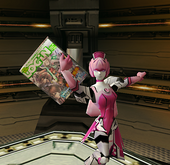 Game Magazines are recurring weapons in the Phantasy Star franchise. They are comedic weapons that resemble real world magazines. These items are usually featured as part of a collaboration to promote both the video game and the print publication.
Phantasy Star Online
Main articles: Game Magazine (Phantasy Star Online), LOGiN

There are two magazines present in Phantasy Star Online, both of which are rare cane-type weapons. The aptly named Game Magazine informs the player of a secret cheat code wherein, after typing URAENDING on the title screen for the Dreamcast and early PC versions of the game, the ultimate credits can be viewed without having to defeat Dark Falz.
LOGiN is another magazine that was introduced later in Blue Burst's life in 2006 in celebration of the LOGiN race event that took place at the time.
Phantasy Star Online Episode III C.A.R.D. Revolution
See also: Weapon Cards in PSO Episode III

There are several video game magazine weapons that can be equipped in Phantasy Star Online Episode III C.A.R.D. Revolution. Like the magazines in Phantasy Star Online, the publications in Episode III are cane-type weapons that are equippable by Forces. They include Famitsu, Dremaga, Dengeki, Nintendo Kids, Nintendo Dream, Game Informer, Game Gather, and Electronic Gaming Monthly (EGM) which can be viewed on either the Weapon Cards page or on Game Magazine (Phantasy Star Online).
Many of the magazines featured have Japanese text on their covers with some English sprinkled throughout. Funnily enough, even on the western magazines, there is a recurring use of Engrish wherein they refer to "Phantasy Star Online" as "Pantasy Star Online" unironically.
Phantasy Star Zero
Following its predecessors, Phantasy Star Zero also has joke, wand-type weapons that feature different real world video game publications. They include CONSOLES+, InGame:Greg&Kiri, and the famous western title, Nintendo Power.