Gigantes (Japanese: ギガンテス) are the flagship monsters of Phantasy Star Nova.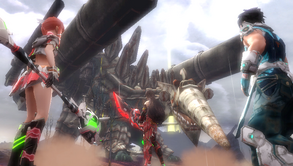 Appearance
Appearance wise, Giganti have a dragon-like body structure and look very mechanical, and is revealed earlier in the game that they have a cockpit-like seat on the top of their head, suggesting that Giganti were artificially built.
Strategy
Certain areas of their bodies have cracks that glow yellow. These areas can be attacked (preferably with the a Halo) to be crushed, causing the Gigantes to fall to the ground.
When they do, it is recommended to use a power weapon (e.g Swords) to strike its head with Gran arts.
Halos and also be used to create platforms so that it is possible to attack from a higher plane.
Ad blocker interference detected!
Wikia is a free-to-use site that makes money from advertising. We have a modified experience for viewers using ad blockers

Wikia is not accessible if you've made further modifications. Remove the custom ad blocker rule(s) and the page will load as expected.