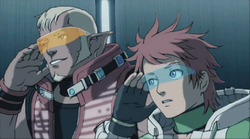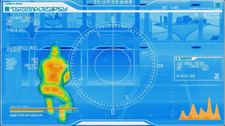 Goggles
are a multipurpose item in the
Phantasy Star Universe
series of video games. They are issued to all
Guardians
primarily as a means to eradicate the recent onslaught of SEED cores infecting much of the wildlife in the Gurhal system.
Although they were initially built to locate hidden zohma and photon springs protecting various types of SEED cores, goggles also have a built-in heat seeking function allowing Guardians to easily locate people in need of assistance during a crisis or to track down a wanted target hiding in the shadows. They are also capable of inspecting obstacles for a breakable weak point, such as rotting trees or fallen wreckage, which could potentially yield obtainable loot or lead to new paths to explore.
Ethan Waber first utilized the goggles in Chapter 1 of Phantasy Star Universe after he became an unwilling ally to the Guardians when the SEED suddenly interrupted the 100th Anniversary of the Tripartite Alliance aboard the Guardians Colony. Leogini Berafort, a member of the Guardians, attempted to help Ethan and his sister, Lumia, escape but he became paralyzed in an accident. Ethan was then given his first task as an unofficial Guardian to find and protect the survivors buried under the rubble from the collapsed ceiling.
Ad blocker interference detected!
Wikia is a free-to-use site that makes money from advertising. We have a modified experience for viewers using ad blockers

Wikia is not accessible if you've made further modifications. Remove the custom ad blocker rule(s) and the page will load as expected.