Huge Battle Fan
Game:
PSO Episodes 1, 2 & 4
Type:
Swords
Requirement:
412 ATP
Stars:

★★★★★★★★★

☆

Special:
Unreduced Havoc

| ATP | DFP | ATA | MST | EVP | LCK |
| --- | --- | --- | --- | --- | --- |
| 10-255 | 0 | 30 | 0 | 0 | 0 |
"Only certain players can use this ultimate weapon. Don't be deceived by its looks."
— In-game description
The Huge Battle Fan is a sword-class rare weapon. It can only be found by the skyly section ID in the ultimate Ruins from a Delsaber. Its special attack has a chance of paralyzing the enemy if the attack hits.
Huge Battle Fan should not be confused with Harisen Battle Fan, which is a comical katana-type weapon.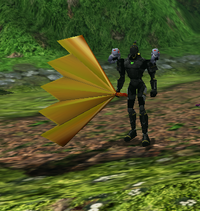 Ad blocker interference detected!
Wikia is a free-to-use site that makes money from advertising. We have a modified experience for viewers using ad blockers

Wikia is not accessible if you've made further modifications. Remove the custom ad blocker rule(s) and the page will load as expected.