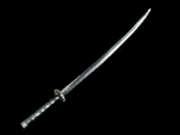 Katanas are Hunter weapons that are very similar to sabers. They hit once per attack, for a total of three times per combo.
Though they are similar to sabers, katanas tend to be altogether different weapons; they have different attack animations, varying special attacks and stats, and their own sound when swung.
Rare Katanas
9

★

Rarity
10

★

Rarity
11

★

Rarity
12

★

Rarity
Ad blocker interference detected!
Wikia is a free-to-use site that makes money from advertising. We have a modified experience for viewers using ad blockers

Wikia is not accessible if you've made further modifications. Remove the custom ad blocker rule(s) and the page will load as expected.