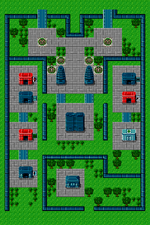 Kueri
is the fourth city reached in
Phantasy Star 2
. It lies to the west of
Zema
and is the city closest to a hovercraft rest point, near the western coast, and the
Roron junkyard
, located southeast beyond the mountains. Kueri is also the home of an inventor seeking some help with his work. Once this city has been visited,
Kain
will join the party.
General Information
Kueri is a bustling city located near the western coast of Mota. Located near the southern-most outskirts of the city is the home of an inventor wholly engrossed with his research. He is seeking help with his invention: a new type of gum that allows anyone to breathe underwater with an action as simple as chewing gum. If Rolf agrees to retrieve a maruera leaf for him from a tree hidden deep within Uzo Island, the inventor will give the team as much of the gum as they need once it is created in return for their services.
Services in the city include:
Teleport station to Paseo, Arima, Oputa, Zema, Piata for 60 meseta
Clone lab
Data memory
Hospital
Weapon shop
Cost
Armor shop
Cost
Tool shop
Cost

Boomerang

480

Titanium Armor

5600

Monomate

20

Laser Slasher

6700

Titanium Cape

6300

Dimate

60

Laser Bar

3100

Titanium Chest

5400

Antidote

10

Acidshot

4800

Knifeboots

4200

Telepipe

130

Silentshot

920

Mirror Emel

5120

Escapipe

70

Laser Shot

6200

Ceramic Shield

8300
Ad blocker interference detected!
Wikia is a free-to-use site that makes money from advertising. We have a modified experience for viewers using ad blockers

Wikia is not accessible if you've made further modifications. Remove the custom ad blocker rule(s) and the page will load as expected.