Kusanagi
Game:
PSO Episodes 1, 2, & 4
Type:
Saber
Requirement:
502 ATP
Stars:

★★★★★★★★★

★

Max Grind:
32
Special:
Demon's

| ATP | DFP | ATA | MST | EVP | LCK |
| --- | --- | --- | --- | --- | --- |
| 560-575 | 0 | 53 | 0 | 0 | 0 |
"A saber inlaid with an Eastern-style design."
— In-game description
The Kusanagi is a rare saber. It can be found only in Episode 4, as a drop from a Dorphon on very hard difficulty only, for all section IDs.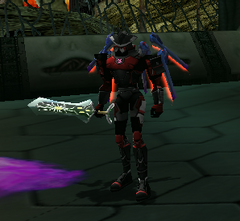 Ad blocker interference detected!
Wikia is a free-to-use site that makes money from advertising. We have a modified experience for viewers using ad blockers

Wikia is not accessible if you've made further modifications. Remove the custom ad blocker rule(s) and the page will load as expected.