"It's ok. I trust you. When I'm with you, I can tell. I understand you and believe in you... all the way to the end. So, please, Break, don't worry..."
— Lura reassuring Break in Last Chance 3
Lura (Japanese: ルーラ) is a major character in Phantasy Star Online Episode III C.A.R.D. Revolution. She is the RAcaseal partner frequently seen accompanied by Break of the Arkz.
She seems to have feelings for Break. These emotions drive her to seek a Heart Unit, an item that she claims will make her body fully functional and allow her to feel more realistic human emotions. Unfortunately, no one seems to know what a heart unit is or if it exists.
Gallery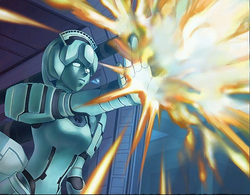 The Phantasy Star wiki has an extensive image gallery for this character.
Ad blocker interference detected!
Wikia is a free-to-use site that makes money from advertising. We have a modified experience for viewers using ad blockers

Wikia is not accessible if you've made further modifications. Remove the custom ad blocker rule(s) and the page will load as expected.