Enjoy the nostalgia of the original series,
or learn more about the more recent MMORPG additions to the franchise.

Warning: This wiki contains unmarked spoilers!
Proceed at your own risk!

What We Need


This wiki is in need of contributors! Ever played one of the many games in the Phantasy Star franchise? Please add your knowledge!

Feel free to add or update whatever you feel could be improved.

For specific requests, check out the To Do section.

If you keep on editing and felt unwelcome, Sign In!! To register, just hop on the Sign up button on the upper right corner of the wiki, and the rest is up to you.

You can also hop over to the forums and start posting. Introduce yourself if you like. If you have any suggestions on additions or changes, feel free to suggest them.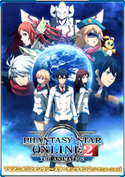 The Phantasy Star franchise gets its first anime!
For further information, see: Phantasy Star Online 2 The Animation
Exciting news for Phantasy Star Online 2 fans. Part of Sega's celebration for the Phantasy Star Online series turning 15, the popular online multiplayer game will receive an anime based on it with all new characters, new story, and familiar monsters.
Teaser trailers have been released earlier this year, presenting a slice-of-life story about high school students obsessed with the Phantasy Star Online 2 game. In the anime, characters appear to live in a world outside of the PSO2 universe, implying that PSO2 is a game and not part of their reality (Much like 2014's stage drama, PSO2 On Stage). Real life segments have hand-drawn art, while in-game fights are animated with 3D models of the characters.
The anime will be legally streamed with English subtitles on Crunchyroll starting Saturday, January 9 at 12 AM Central Standard Time, and will be simulcast every Saturday following.
For more information, check out Sega's official anime site.
And be sure to watch the English subbed episodes on Crunchyroll as they air!
Random Quote
Dairon: La di da di da, la di da di doo...
Lindow: You're humming to yourself, Mayor? That's out of character for you. Are you happy about something?
Dairon: Hah?! Oh, oh, it's you, Ms. Lindow. Please don't startle me like that.
Lindow: I am your secretary, sir. I should be by your side, always. I repeat, are you happy about something?
Dairon: No, nothing in particular. Don't let me concern you.
Lindow: I see.
Dairon: ...
Lindow: ...
Dairon: Ms. Lindow, if I may ask? How long do you intend to keep standing there?
— Mayor Dairon and his secretary, Lindow, banter in Mayor's Mission
Want to see another quote? Try refreshing the page or purge!
More gaming wikis on Wikia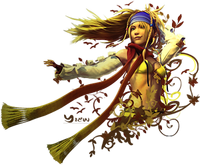 JRPG Games
Go to these sites for info or for help with your own wiki!
Aselia • Atelier • Battle Chasers: Nightwar • Blade and Soul • Breath of Fire • Chrono • Devilian • Disgaea • Dragon Quest • EarthBound • Etrian Odyssey • Final Fantasy • Golden Sun • Hyperdimension Neptunia • Kingdom Hearts • Mana / Seiken Densetsu • Megami Tensei • Parasite Eve • Phantasy Star • Pokémon • Riders of Icarus • Star Ocean • Suikoden • Valkyria Chronicles • The World Ends With You • Xenoblade • Xenosaga • Yo-Kai Watch • Ys
Want your community included? See how!

Ad blocker interference detected!
Wikia is a free-to-use site that makes money from advertising. We have a modified experience for viewers using ad blockers

Wikia is not accessible if you've made further modifications. Remove the custom ad blocker rule(s) and the page will load as expected.