Enjoy the nostalgia of the original series,
or learn more about the more recent MMORPG additions to the franchise.

Warning: This wiki contains unmarked spoilers!
Proceed at your own risk!

What We Need


This wiki is in need of contributors! Ever played one of the many games in the Phantasy Star franchise? Please add your knowledge!

Feel free to add or update whatever you feel could be improved.

For specific requests, check out the To Do section.

If you keep on editing and felt unwelcome, Sign In!! To register, just hop on the Sign up button on the upper right corner of the wiki, and the rest is up to you.

You can also hop over to the forums and start posting. Introduce yourself if you like. If you have any suggestions on additions or changes, feel free to suggest them.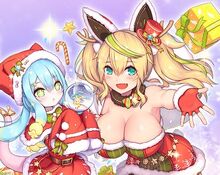 Merry Christmas and Happy Holidays from the Phantasy Star Wiki!
It's that time of year again! The holidays are finally upon us, as are the countless sherpa blankets and hot chocolate with marshmallows. We here at the Phantasy Star Wiki wish our visitors, wiki contributors, and general PS fans a happy holidays! Without any of you, none of this could be possible. The wiki still has a long way to go in terms of becoming up to date, but it's getting there and we are making amazing progress! So thank you! Although this year has had its ups and downs, what with the whole official English website going down and all. I mean, what?! Let's not even mention the fact that both the Taiwan and SEA regional servers officially shut down, as well.
But despite that doom and gloom, Sega did throw this lovely, niche fandom some bones. We can't forget that this year was the year we got a new officially licensed manga that was actually not restricted to the super exclusive SPEC magazines. Phantasy Star Online 2 is still bursting with life (in Japan). To name a few updates, we got the bombshell Omega episode in which who else but Alis Landale and (evil) Lutz actually make a super interdimensional reappearance in a different universe! This is, like, PSP2i levels of throwback shenanigans. But wait, that's not all. There was also the addition of that fancy new Hero class that I hear is all the rage with the PUGs these days. If browsing classic heroes on this wiki is your thing, they also added classic throwback reimagined costumes for your viewing pleasure. By reimagined, I, of course, mean more booty. (Nei's costume is super adorable, by the way).
So where does that leave us? What else do we have in our future as Phantasy Star fans? Well, for one, we are going to get a trading card game by March 2018. If it is anything like Episode III, I may already be a fan. Oh, and there was that big news about a cloud-based PSO2 on the Switch which is also going to be a thing scheduled for 2018. It will definitely be interesting to see how this will impact the community by having PS4, PC and now a Nintendo console play together. The more the merrier I say.
Anyway, I think I have rambled on enough. Take care everyone, and enjoy the holidays! May the new year bring greater opportunities (and pizza)! If you need something to watch to pass the time in between family road trips, countless naps, or whatever else, I highly recommend this retrospective which celebrates our fandom's 30th anniversary this year in 2017!
Random Quote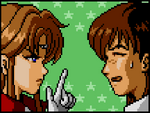 Hahn: Given the circumstances, I feel compelled to investigate the basement myself. But come to think of it, it is a bit dangerous...
Alys: So you were just waiting for us to arrive?
Hahn: Well, ah, yes. You catch on quick!
Alys: 100 meseta!
Hahn: What?
Alys: We'll take you with us for 100 meseta. I hope you weren't thinking of asking to tag along with us for free?
Hahn: Er... I can't get that kind of money from the principal...
Alys: That's not my problem. Now, what are you going to do?
Hahn: ...OK, I'll pay....
— Alys finagles money out of Hahn as they are planning to investigate the basement
Want to see another quote? Try refreshing the page or purge!
More gaming wikis on Wikia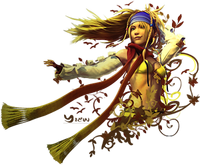 JRPG Games
Go to these sites for info or for help with your own wiki!
7th Dragon III Code:VFD • Aselia • Atelier • Battle Chasers: Nightwar • Breath of Fire • Chrono • Dinosaur King • Disgaea • Dragon Quest • EarthBound • Etrian Odyssey • Fairy Fencer F • Final Fantasy • Golden Sun • Grandia • Hyperdimension Neptunia • Kingdom Hearts • LOST SPHEAR • Mana / Seiken Densetsu • Megami Tensei • Parasite Eve • Phantasy Star • Pokémon • Riders of Icarus • SaGa • Star Ocean • Suikoden • Valkyria Chronicles • The World Ends With You • Xenoblade • Xenosaga • Yo-Kai Watch
Want your community included? See how!
See all of our JRPG gaming wikis!