Relmitos looks very young, but according to him, he's highly skilled. Orland has been looking after him since he was a child.
He joined the Hunter's Guild to right the world. More specifically, to fight the Arkz.
Characteristics
Biography
Gallery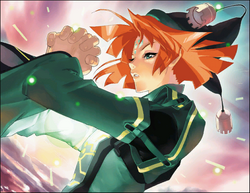 The Phantasy Star wiki has an extensive image gallery for this character.
Ad blocker interference detected!
Wikia is a free-to-use site that makes money from advertising. We have a modified experience for viewers using ad blockers

Wikia is not accessible if you've made further modifications. Remove the custom ad blocker rule(s) and the page will load as expected.