Phantasy Star Online 2
Talk

0
751pages on
this wiki
Phantasy Star Online 2 is a free-to-play online multiplayer game for PC and PlayStation Vita. A mobile version called Phantasy Star Online 2 es is available for iOS and Android.
Release history
Phantasy Star Online 2 was due to be released in late 2011 but was postponed for updates until 2012. Servers for use with the Japanese PC version opened July 4, 2012. An English version for South-east Asia was released in 2014, while versions for the United States and European markets have been postponed indefinitely.
According to Sega, over one million SEGA IDs have been activated for the game. The milestone was reached on October 1, 2012, about three months after the game's launch.[1]
Recommended system requirements
The following system specifications are recommended by Sega to play Phantasy Star Online 2:[2]
Software
OS: Windows XP SP3 (32 bit), Windows Vista or Windows 7 (32 or 64 bit)
API: DirectX 9.0c or better
Hardware
CPU: Intel Core 2 Duo E6300 or better
RAM: 1.5GB (Windows XP), 2GB (Windows Vista, Windows 7) or more
HDD: 8GB or more free
Monitor: 1280x720 or higher resolution
GPU: NVIDIA GeForce 7800GT or equivalent or better
SPU: DirectX 9.0c compatible or better
Network: broadband Internet access
Payment model
No purchase or recurring subscription fee is required to play the game. Subscriptions include access to additional game features, such as trading and selling weapons and other items, and both subscribers and non subscribers can make microtransaction purchases through Arks Cash (AC). A SEGA ID must be registered and activated to be able to access the game servers.
Gameplay
Mechanics
New features in PSO2 that were not in PSO include the ability to jump over short obstacles and attack in mid-air, to take evasive maneuvers such as dashing and teleporting, and to hold buttons to charge up stronger versions of attacks and techniques (although this game mechanic was introduced in Phantasy Star Zero). Players are able to create their own combo attacks by chaining different photon arts and techniques.
Quests and instances
Gameplay is online and quest based, with quests taking place in instances on a planet and in an area determined by the quest. Most instances are single-party and accommodate 4 players, but a few are multi-party and accommodate up to 12. The party matchup system allows players to search for and join parties running the same quest.
Each quest has its own objective, but some quest instances also contain "emergency code" events; short battles with special victory conditions and bonus rewards upon success.
A party cannot return to the Arks Lobby while a quest is underway. Instead, a small, private space called a Campship serves as a party's base of operations during a quest.
Client orders provide additional rewards for undertaking various challenges on quests, such as defeating enemies with a certain weapon type, or completing a quest within a time limit.
Open world instances are also available. These allow many parties to travel the same map and can potentially have a much higher player population than other quest instances. Enemies and "emergency code" events respawn in these open world instances, making these instances helpful for client orders, such as defeating a large number of a certain type of enemy.
Races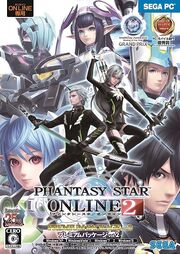 Originally, there were only three races to choose from:
Human
,
Newman
, and
CAST
. Race and gender affect a character's appearance, voice, and stat growth only, although, unlike the original
Phantasy Star Online
and
Phantasy Star Universe
, most of the racial stat differences are not as drastic. All race and gender combinations can access all classes. Former racial abilities, such as the ability to use traps or techniques, are now class abilities. On July 17, 2013, a new race, the
Dewman
, became available in the new expansion,
Phantasy Star Online 2: Code: Episode 2
.
[3]
Classes
Four classes are available to new characters: hunter, ranger, braver, and force. Three additional classes, fighter, gunner, and techer, are unlocked by reaching level 30 in the respective beginning class, then fulfilling client orders to receive the respective class license.
Characters may freely switch between all available classes in the Arks lobby while not on a quest. Experience, stats, and skill trees for each class are tallied separately. It is possible for a single character to reach the maximum level of 70 in every class, but only the stats and abilities of the currently selected main class and subclass count.
Characters may also complete a client order for a subclass license, which allows a character to set a subclass and change it at will, as with the main class. Setting a subclass adds a portion of the subclass' base stats, all the subclass' skills, and the ability to use techniques, if the subclass is force or techtor.
Ratings
Phantasy Star Online 2 received a CERO C (15 and up) rating due to sexual content.[4] Sexual content for the purpose of CERO ratings can include swimwear or other revealing costumes.[5]
Gallery
Early Screenshots
Anniversary and Campaigns
Videos
References
External links