Phantasy Star Online 2 ~Project Dream Arks!~
Talk

0
Share
Phantasy Star Online 2
~Project Dream Arks!~
Published by:
Frontier Works
Released:
July 24, 2013
Length:
N/A
Phantasy Star Online 2 ~Project Dream Arks!~ (Japanese: 「ファンタシースターオンライン2」 ~Project ドリームアークス!~) is a drama CD released on July 24, 2013. It follows the adventures of Zeno, Afin and Echo as they interview various ARKS members, as well as some citizens working aboard the ARKS Ship.
Cast
| Character | Performer |
| --- | --- |
| Zeno | Ryohei Kimura |
| Echo | Yoko Hikasa |
| Afin / Ohza | Hiro Shimono |
| Regias / Jean | Yosuke Akimoto |
| Koffie / Franka | Aoi Yuki |
| Marlu / Melitta | Mai Kadowaki |
| Lisa / Noemi | Kana Hanazawa |
| Tea / Three Naura Sisters | Yuka Iguchi |
| Patty | Kana Asumi |
| Philia | Kana Ueda |
Extras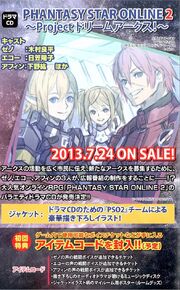 Included with the CD are item codes which can be redeemed for ingame items in
Phantasy Star Online 2
via the visiphone. The items include:
Player character voice change tickets

Male [EX] Voice B01
Male [EX] Voice B02
Male C [EX] Voice B01
Male C [EX] Voice B02
Female [EX] Voice B01
Female C [EX] Voice B02

Room decorations

Dream Arks Poster
Jukebox

VD「人選ミス」

(My Room music disc)
External Links
Ad blocker interference detected!
Wikia is a free-to-use site that makes money from advertising. We have a modified experience for viewers using ad blockers

Wikia is not accessible if you've made further modifications. Remove the custom ad blocker rule(s) and the page will load as expected.