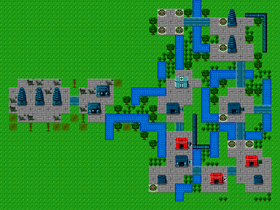 Piata
is the fifth city reached in
Phantasy Star II
, and the last town found on
Mota
. The biomonsters around Piata are the strongest found on the surface of the planet. After Piata has been visited,
Shir
will join the party.
General Information
Piata is the final city visited on Mota. It was once known as Mota's space city, renowned for its spaceport and abundance of pilots. However, after the accident that occurred 10 years prior to the events of Phantasy Star II, all space related activities became forbidden by the Mother Brain.
Located to the west of town are three control towers that link the city directly to the Mother Brain. Although they are inaccessible upon first visiting the city, they become an important plot point later in the game.
Services available in this city include:
Teleport station to Paseo, Arima, Oputa, Zema, Kueri for 60 meseta
Clone lab
Data memory
Hospital
Weapon shop
Cost
Armor shop
Cost
Tool shop
Cost

Laser Sword

5400

Silver Crown

470

Monomate

20

Laser Bar

3100

Jewel Ribbon

4700

Dimate

60

Acidshot

4800

Ceramic Armor

11700

Antidote

10

Vulcan

12600

Ceramic Cape

12400

Telepipe

130

Laser Shot

6200

Ceramic Chest

10000

Escapipe

70

Laser Cannon

20000

Long Boots

6800
Ad blocker interference detected!
Wikia is a free-to-use site that makes money from advertising. We have a modified experience for viewers using ad blockers

Wikia is not accessible if you've made further modifications. Remove the custom ad blocker rule(s) and the page will load as expected.