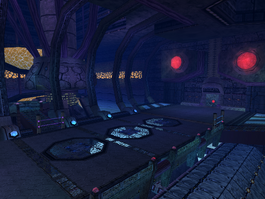 The Ruins is the fourth and final area a player will encounter in Episode 1 of Phantasy Star Online. Once you complete this area you will be confronted with the last boss of episode 1, Dark Falz. To access the Ruins you have to activate three pillars that are located in Forest 2, Cave 2 and Mine 2.
Local Monsters
Normal-Very Hard
Ultimate
Claw
Bulclaw
Dark Gunner
Death Gunner
Delsaber
Dark Falz (Boss)
Quests
Ad blocker interference detected!
Wikia is a free-to-use site that makes money from advertising. We have a modified experience for viewers using ad blockers

Wikia is not accessible if you've made further modifications. Remove the custom ad blocker rule(s) and the page will load as expected.