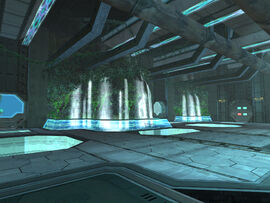 The
Seabed
is the fourth and final area of Episode 2 in
Phantasy Star Online Episodes I & II
. An abandoned lab once thriving with life, this underwater research facility located beneath the island of Gal Da Val is now inhabited by various experiments that have escaped from confinement. The
final encounter
found within the Test Subject Disposal Site located well below the surface of
Ragol
is the ultimate, failed bioweapon created by the ambitious Dr. Osto.
Layout
Seabed is split into two main areas, the Upper and Lower Levels, and a boss area known as the Test Subject Disposal Site. Being the climactic finale of Episode 2, the entirety of this haunting facility is extremely long with winding paths filled with traps and dead ends.
Rampaging Creatures
Quests
Ad blocker interference detected!
Wikia is a free-to-use site that makes money from advertising. We have a modified experience for viewers using ad blockers

Wikia is not accessible if you've made further modifications. Remove the custom ad blocker rule(s) and the page will load as expected.