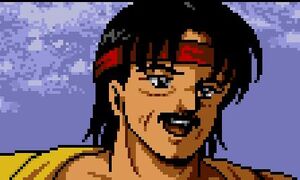 Seth
(Japanese:
シアム・シズラブラム
) is a briefly playable character in
Phantasy Star IV: The End of the Millennium
. He is a 39-year-old archeologist who was exploring the Soldier's Temple on a island near
Krup
. In reality, however, this was just a disguise of
Dark Force
. You can also take all of his equipment and sell it later, as Seth won't be a playable character anymore.
When Chaz, Rika, Rune and Wren arrive, seeking the Aero-Prism, he joins the group. Throughout their travels in the Temple, he expresses amazement at the group's abilities.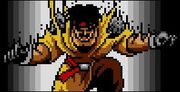 Shortly after the Aero-Prism is found, Seth starts to grip his eye while screaming. He was then torn apart as the third incarnation of Dark Force revealed itself.
Abilities
Although Seth has a mental stat, it is used solely for his skills. He has no TP and no access to techniques.
Stats
HP

274

630

TP

⁠

0

Strength

58

99

Mental

74

99

Agility

60

99

Dexterity

60

99
Although Seth lacks techniques, his high mental stat benefits his skills. His other stats have an average growth rate.
Skills
Seth's skills all depend on his mental stat, and can deal physical damage, slow, paralyze, or instantly defeat enemies. The number of uses for Seth's skills do not increase as he levels up. None of Seth's skills require him to be wielding a dagger.
| Skill | Obtained | Uses | Power | Defense | Element | Effect |
| --- | --- | --- | --- | --- | --- | --- |
| Shadow | already known | 26 | 32 + mental | mental | psi | chance to subtract user's mental from all enemies' agility |
| Corrosion | already known | 18 | 144 + mental | dfs | physical | damage to all enemies |
| Mind blast | already known | 13 | 64 + mental | mental | psi | chance to paralyze all enemies |
| Death spell | already known | 9 | 64 + mental | mental | bio | chance to defeat one enemy |