Spread Needle
Game:
PSO Episodes 1, 2, & 4
Type:
Rifle
Requirement:
135 ATA
Stars:

★★★★★★★★★

★

Max Grind:
40
Special:
Unreduced Seize

| ATP | DFP | ATA | MST | EVP | LCK |
| --- | --- | --- | --- | --- | --- |
| 1-110 | 0 | 40 | 0 | -30 | 0 |
"A custom shotgun that shoots countless needles. Its special attack paralyzes enemies."
— In-game description
Spread Needle is a rare rifle-type weapon part of the "needle" subcategory of guns.
Only equippable by Rangers, this shotgun has the power to paralyze enemies. Its range is comparable to a mechgun's, and its bullets can hit up to 5 enemies.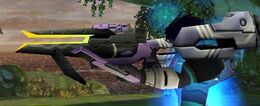 Ad blocker interference detected!
Wikia is a free-to-use site that makes money from advertising. We have a modified experience for viewers using ad blockers

Wikia is not accessible if you've made further modifications. Remove the custom ad blocker rule(s) and the page will load as expected.