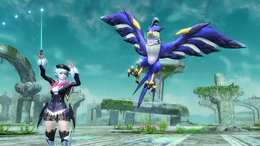 Tact is a weapon category in Phantasy Star Online 2. They are retractable wands that can be used to control Pets.
Attributes
Tacts are small batons that are wielded by players. They are of practically zero offensive value; their only purpose is to allow players to command Pets that can be bound to the weapon.
Tacts have two basic motions: a simple wave performed by using a Pet's basic attack, and a circular flourish performed by activating a Photon Art.
If in direct proximity to a target, a Tact wielder can connect with a very weak Striking attack if either motion is performed. However, this weapon does not restore PP if it hits.
List of Tacts
1

★

Rarity
Icon
Image
Name
Req.
Drop
Class
Potential
Tact
1 T-ATK
Present (Pietro)

Weapon Shop (100 Meseta)

Summoner
N/A
Blue Tact
1 T-ATK
Title Reward
Summoner
N/A
Purple Tact
1 T-ATK
Present (Pietro)
Summoner
N/A
Tact Revolucio
1 T-ATK
Collection File
Summoner
N/A
Tact-NT
1 T-ATK
Item Code
Summoner
Healing Wind
10★ Rarity
| | | | | | | |
| --- | --- | --- | --- | --- | --- | --- |
| Icon | Image | Name | Req. | Drop | Class | Potential |
| | | Rose Skewer | 1 T-ATK | 2016 Badge Shop (300 Gold Badges) | All Class | N/A |
13★ Rarity
| | | | | | | |
| --- | --- | --- | --- | --- | --- | --- |
| Icon | Image | Name | Req. | Drop | Class | Potential |
| | | Yukikaze | 1 T-ATK | 2017 Badge Shop (200 Gold Badges) | Summoner | Snow Celebration |