The Aloof Warrior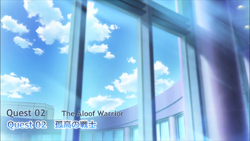 General Information
Episode Number: 2
Air Date:
January 14, 2016 (JP)

January 15, 2016 (NA)
Opening Theme:
Zessei Stargate (絶世スターゲイト)
Ending Theme:
Readoro☆KOI☆Koi! One More!
(レアドロ☆KOI☆こい!ワンモア!)
Chronology
Previous Episode <------------> Next Episode
The Aloof Warrior is the second episode of the Phantasy Star Online 2 The Animation series. It aired on January 14, 2016 on Japanese television networks, and was simulcast on January 15, 2016 for the North American audience with subtitles on Crunchyroll.
Plot
Notable Events
Aika Suzuki, the mysterious blonde-haired woman that appeared in-game at the end of last episode, transfers into Itsuki's school.
Itsuki briefly sees a translucent rappy hanging over Aika's shoulder before it disappears.
Aika begins stalking Itsuki in plain sight.
Aika walks into her dorm room before curfew, and in a later scene she has suddenly disappeared. On the floor are pieces of a dismantled computer strewn about everywhere.
SORO becomes disappointed with Itsuki for showing off and his lack of care for the well being of their party, calling Itsuki a "failure of an ARKS." Itsuki becomes disheartened and stops playing PSO2, failing his primary duty as Vice President.
President Rina, who plays as SORO in-game, vents to herself in-game for overreacting, and in a moment of carelessness, gets abducted by a funji. Itsuki emerges in time to save SORO from a rockbear. The two then apologize to one another.
Itsuki sees his first Quna concert.
We learn that the school is trying to ban PSO2 on account of it distracting students from their studies. Rina sees this as tyranny, and her mission with the student council is to prove that students can play while keeping their grades up.
Rina recruits Aika Suzuki as a special officer of the student council and adviser to Itsuki.
Trivia
A statue of Alex Kidd can be seen in the bathroom of the campus dorm.
Aika's nickname, "Ai Ai," is the same as one of the monkeys in the Sega game, Super Monkey Ball.
Quna performs a concert in this episode, and much like in the game, her hands remain static during her dance.
Quotes
Eyecatchers
Gallery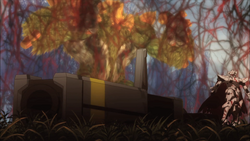 The Phantasy Star wiki has an extensive image gallery for this episode.
Ad blocker interference detected!
Wikia is a free-to-use site that makes money from advertising. We have a modified experience for viewers using ad blockers

Wikia is not accessible if you've made further modifications. Remove the custom ad blocker rule(s) and the page will load as expected.