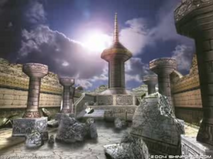 VR Temple is a virtual-reality location imposed by the Lab on Pioneer 2 hunters as the first phase of an examination during Episode 2. VR Temple is designed (apparently by a woman from Pioneer 1) like an ancient dungeon filled with traps, so to introduce Hunters to all sorts of hazards earlier than they would in Episode 1. The area is inhabited by monsters seen in three of the areas from the previous episode, creating a somewhat more diversified ecosystem within the virtual-reality.
Simulated Monsters
Normal-Very Hard
Ultimate
Quests
Ad blocker interference detected!
Wikia is a free-to-use site that makes money from advertising. We have a modified experience for viewers using ad blockers

Wikia is not accessible if you've made further modifications. Remove the custom ad blocker rule(s) and the page will load as expected.