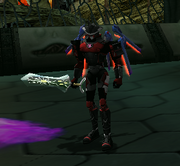 Weapons are an important part of all Phantasy Star Games, and in the
online series
they are essential for exploring
Ragol
in order to find out what has happened there.
Standard Weapons
Most weapons can be bought at the shop on Pioneer II or are dropped by monsters or found in crates down on Ragol. All standard weapons have 5 different grades (with the exception of force weapons, which have no 5th grade). The basic and weakest grade uses green photos, the next blue, the next purple, then red, and the strongest standard weapon grades use yellow photons. Standard weapons can be divided into three categories:
Those generally for hunters and requiring ATP to wield:
Those generally for rangers and requiring ATA to wield:
Those generally for forces and requiring MST to wield:
Rare Weapons
Rare weapons are dropped by monsters and appear as red boxes on the game screen. Rare weapons are almost always more powerful than standard types. Every type of standard weapon also includes many rare weapons, and there are additional weapon types that are rare-only:
Ad blocker interference detected!
Wikia is a free-to-use site that makes money from advertising. We have a modified experience for viewers using ad blockers

Wikia is not accessible if you've made further modifications. Remove the custom ad blocker rule(s) and the page will load as expected.