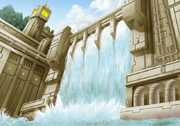 The Yellow Dam is a dungeon in Phantasy Star II. Depending on whichever choices the player makes, the Yellow Dam can be taken on as the second, third, fourth, or fifth dungeon of the second act of the game.
Although the Yellow Dam is closest to Zema, it is actually more easily accessed from Kueri further to the west, as the canal leading to the dam is most easily accessed from Kueri's Jet Scooter (necessary to enter the dam) deposit. The Yellow Dam opens up after the player has obtained the Yellow Card from the Control Tower.
The Yellow Dam is one of four dams Rolf and his party need to open to relieve the flow of water triggered after defeating Neifirst at Climatrol. It is the second-least difficult and second-least complex of the dams to explore, hence it is often tackled second. Should the Yellow Dam be the last of the four dams completed, it is here where the boss fight against three Army Eyes takes place, after which Rolf and his party are sent to the prison satellite, Gaira.
Items
Enemy formations
Informer ×3 (1F & 2F)
Firgamma ×3 (1F & 2F)
Poleziax ×1 + Firgamma ×2 (1F & 2F)
Eyesore ×2 (1F, 2F, & 3F)
Wirehead ×1 + Eyesore ×1 (1F & 2F)
Sonomech ×1 + Eyesore ×1 (All 4 floors)
Sonomech ×1 + Wirehead ×1 (1F & 2F)
Metalman ×1 + Wirehead ×2 (2F & 4F)
Sonomech ×2 (3F)
Sonomech ×1 + Firgamma ×1 (3F)
Mazgamma ×1 + Eyesore ×1 (3F & 4F)
Informer ×2 + Wireface ×1 (3F & 4F)
Poleziax ×1 + Wireface ×1 (3F)
Twig Man ×2 (3F)
Poleziax ×1 + Twig Man ×2 (4F)
Cooley61 ×1 (4F)
Cooley61 ×1 + Poleziax ×2 (4F)
Videos